Are your High Vis Winter Garments Certified?
---
Things to Consider Before Buying High Vis Clothing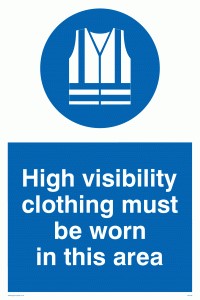 Most people associate winter with a warm cup of tea and a good book. However, when you work outside it means foggier mornings, earlier sunsets, and most importantly, a lesser chance that you will be seen. To ensure that you remain visible during the winter months, high-visibility clothing is essential.
High-visibility clothing is undisputedly one of the most important parts of anyone's PPE. Most often, high-visibility clothing is worn to alert drivers and other vehicle operators of a worker's presence. This form of PPE is effective because the human eye responds best to large, contrasting, bright or moving objects.
When purchasing high-visibility clothing it is important to consider two things.
When will I be wearing high-vis clothing?
It is important to consider the time of day as high-vis garments use different materials for the day and the night. High-vis garments intended for the daytime have a fluorescent material whereas garments intended for nighttime have retroreflective material.
Is this hi-vis product certified to specific Australian standards?
When a product is certified to specific standards, it provides third-party quality assurance that the particular product is reliable and safe. All our high-vis safety garments are certified to Australian Standard AS/NZS 4602:1999 High Visibility Safety Garments by SAI Global. This standard specifies the visual requirement for high-visibility safety garments for wear by workers who may be exposed to the hazards of moving traffic, moving plants, or equipment in high-risk situations.
Particularly in the wintertime, it is important to stay visible at all times! And there is every incentive to stay visible because high-vis clothing is affordable, light, and comes in different shapes and sizes, qualities and thickness.
Please be safe and high-vis it up this winter!
CONTACT US

If you'd like to learn more about our safety products or need expert advice on which safety gear to get for your needs, feel free to get in contact with us at Elliotts Australia. We would love to assist you! Call us on 07 3265 2944 or send us a message.